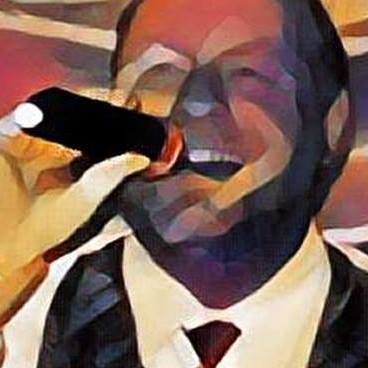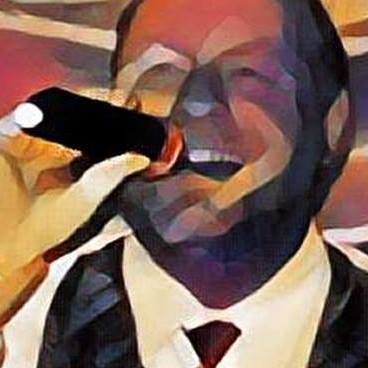 Rick performs for all the below and more!!! Call Today... (515) 208-1782 or email
Rick Ludwig is one of the Midwest's best-kept secrets when it comes to variety style vocal performance and impersonations of the greatest singers since the 1950s until the present. Rick sings over 500 different songs from over 200 different artists spanning over 60 years and he also impersonates many of these artists with costumes or hilarious props for certain events. Rick's incredible 4 octave range (from bass to falsetto) allows him to do almost any song. From the Oakridge Boys to Frankie Valli, Rick keeps his audiences on their toes as to what he will sing next.
Rick has performed (sang) at over 5,000 shows from 1985-present, including casino shows, nightclubs, wedding ceremonies, wedding receptions, corporate parties, karaoke shows, singing telegrams, nursing homes, national anthems, churches and even funerals (celebration of life ceremonies).
He began singing in public at a very young age of four in church, performing special numbers. The love for singing has always been in his blood! He is a natural when it comes to singing like the original artists and impersonating their famous moves! Rick has even been compared to the late, great Vegas entertainer/singer/impersonator Danny Gans, by some big fans of Danny's that saw his show several times.
Rick performs the oldies, classic country, new country (including hits on the radio today), classic pop and rock & roll songs and even contemporary Christian and gospel songs. He also likes to throw in a few Patriotic songs every now and then.
SINGING SERVICES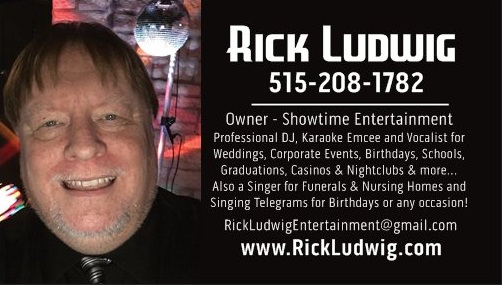 OTHER SERVICES... MOBILE DJ / KARAOKE/TRIVIA SERVICES

View a YouTube video demonstration below of Rick Ludwig singing at an oldies show.
For more information on booking Rick Ludwig or for a demo, contact us at (515) 208-1782 or email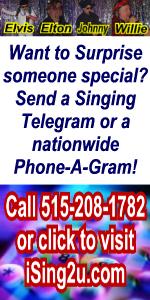 ational, nationwide, america, usa, casino, clubs, bars, amazing, incredible, impersonator, mask, imitator, imitation, imitate, impersonate, concert, variety, artist, title, many, voice, voices, elvis presley, frank sinatra, dean martin, bobby darin, louis armstrong, roy orbison, buddy holly, frankie valli, four seasons, righteous brothers, beach boys, beatles, tokens, elton john, billy joel, neil diamond, jimmy buffett, bob seger, rock and roll, rock & roll, oldies, pop, rock, country, country & western, johnny cash, willie nelson, conway twitty, john denver, george strait, george jones, garth brooks, brooks & dunn, alan jackson, tim mcgraw, toby keith, lee greenwood