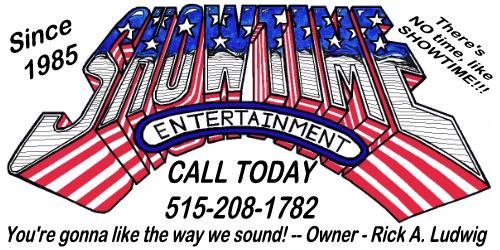 ABOUT US
Showtime Entertainment of Des Moines, Iowa, has been providing high-quality Mobile DJ, Karaoke and Live Vocalist services across the Midwest since 1985. Owner, Rick Ludwig, assures you of the finest experience at your event. We know that quality is your number one concern when booking an entertainment provider and our experience guarantees you that quality is our most important business asset. We now even offer nationwide travel! We'll travel from coast to coast to provide high-quality, professional and fun service to your upcoming event!!!
We offer both disc jockey and karaoke services for a wide range of events including, but not limited to... Weddings, Corporate Parties, School Functions, Bar and Bat Mitzvahs, Birthdays, Graduations, Community Events and Fund-Raisers, as well as private and regularly scheduled karaoke events. We also offer Professional Emcee Services, Public Address (PA) Systems, Live Music, Game Show Services, Singing Telegrams, Talent Shows and Lip Sync Contests.
Feel free to look around, spend a little time here. and you'll see that Showtime Entertainment is your ONLY choice for quality entertainment services in the Midwest.
OUR MISSION STATEMENT
Showtime Entertainment is dedicated to providing individuals and organizations in the Midwest and all across America with high-quality Mobile DJ Service, Karaoke Shows and Contests, Game Shows, Singing Telegrams and Live Vocal Performances at competitive rates using state-of-the-art sound equipment, an extensive music selection and a staff which is totally committed and motivated towards excellence, while adhering to professional conduct and attitude and continually creating a fun, interactive atmosphere for our customers, which in turn creates unforgettable memories and repeat business.
Thank you for making Showtime Entertainment the best we can be!!!
One of the BEST Des Moines DJ services is Showtime Entertainment of Iowa DJs, Karaoke, Singing Telegrams, Vocalists & more...
djs in des moines, dj in des moines, des moines djs, dj iowa, djs iowa, iowa dj, iowa djs, des moines dj service, des moines disc jockey, dj service in des moines, iowa, dj service des moines, disc jockey service des moines, iowa, live music des moines, iowa, singer, entertainment, weddings des moines, iowades moines dj, iowa dj, des moines djs, iowa djs, des moines disc jockey, iowa disc jockey, iowa disc jockeys, des moines disc jockeys, djs in iowa, djs in des moines, dj in iowa, dj in des moines, iowa entertainment, des moines entertainment, des moines weddings, iowa weddings, iowa wedding, des moines wedding, wedding des moines, wedding iowa, wedding in des moines, wedding in iowa, weddings in iowa, weddings in des moines, iowa karaoke, dj des moines, dj iowa, djs iowa, djs des moines, disc jockey des moines, disc jockey iowa, entertainment iowa,entertainment des moines, iowa, dj central iowa, disc jockey central iowa, iowa bride, des moines bride, bride iowa, bride des moines, vendor iowa, iowa vendor, vendor des moines, des moines vendor, school, prom, homecoming, birthday, anniversary, graduation, reunion, club, fund-raiser, fund raiser, bar mitzvah, bat mitzvah, bar, restaurant, nightclub, tavern, lounge, affordable dj, affordable djs, affordable disc jockey, high quality dj, high quality djs, high quality disc jockey, game show, talent show, lip sync, emcee service, public address, ankeny, altoona, ames, west des moines, windsor heights, pleasant hill, indianola, carlisle, grimes, waukee, clive, urbandale, johnston, norwalk, cumming, fort dodge, marshalltown, newton, pella, knoxville, chartion, ottumwa, oskaloosa, grinnell, cedar rapids, iowa city, cedar falls, iowa falls, mason city, story city, boone, ogden, adel, de soto, winterset, polk county, story county, dallas county, marion county, warren county, Alabama, Alaska, Arizona, Arkansas, California, Colorado, Connecticut, Delaware, DC, Washington D.C., Florida, Georgia, Hawaii, Idaho, Illinois, Indiana, Iowa, Kansas, Kentucky, Louisiana, Maine, Maryland, Massachusetts, Michigan, Minnesota, Mississippi, Missouri, Montana, Nebraska, Nevada, New Hampshire, New Jersey, New Mexico, New York, North Carolina, North Dakota, Ohio, Oklahoma, Oregon, Pennsylvania, Rhode Island, South Carolina, South Dakota, Tennessee, Texas, Utah, Vermont, Virginia, Washington, West Virginia, Wisconsin, Wyoming business