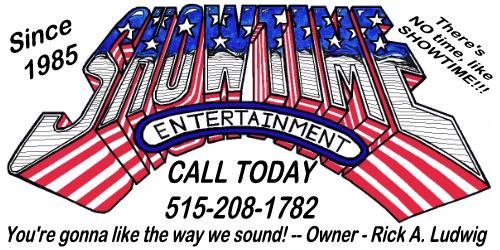 PRIVATE PARTY KARAOKE SERVICE
------------------------------------------------------
We offer Karaoke as a stand alone event or in addition to DJ Services for a wide range of events including, but not limited to... Weddings, Corporate Parties, School Proms/Mixers, Post Prom After Parties, Frat/Sorority Formals, Bar and Bat Mitzvahs, Birthdays, Graduations, Anniversaries, Reunions, Retirements, Community Events and Fund-Raisers.
For RATES, please click on the button below...

NOTE: Casino shows are rated the same as Private Parties.
One of the BEST Des Moines DJ services is Showtime Entertainment of Iowa DJs, Karaoke, Singing Telegrams, Vocalists & more...
djs in des moines, dj in des moines, des moines djs, dj iowa, djs iowa, iowa dj, iowa djs, des moines dj service, des moines disc jockey, dj service in des moines, iowa, dj service des moines, disc jockey service des moines, iowa, live music des moines, iowa, singer, entertainment, weddings des moines, iowades moines dj, iowa dj, des moines djs, iowa djs, des moines disc jockey, iowa disc jockey, iowa disc jockeys, des moines disc jockeys, djs in iowa, djs in des moines, dj in iowa, dj in des moines, iowa entertainment, des moines entertainment, des moines weddings, iowa weddings, iowa wedding, des moines wedding, wedding des moines, wedding iowa, wedding in des moines, wedding in iowa, weddings in iowa, weddings in des moines, iowa karaoke, dj des moines, dj iowa, djs iowa, djs des moines, disc jockey des moines, disc jockey iowa, entertainment iowa,entertainment des moines, iowa, dj central iowa, disc jockey central iowa, iowa bride, des moines bride, bride iowa, bride des moines, vendor iowa, iowa vendor, vendor des moines, des moines vendor, school, prom, homecoming, birthday, anniversary, graduation, reunion, club, fund-raiser, fund raiser, bar mitzvah, bat mitzvah, bar, restaurant, nightclub, tavern, lounge, affordable dj, affordable djs, affordable disc jockey, high quality dj, high quality djs, high quality disc jockey, game show, talent show, lip sync, emcee service, public address, ankeny, altoona, ames, west des moines, windsor heights, pleasant hill, indianola, carlisle, grimes, waukee, clive, urbandale, johnston, norwalk, cumming, fort dodge, marshalltown, newton, pella, knoxville, chartion, ottumwa, oskaloosa, grinnell, cedar rapids, iowa city, cedar falls, iowa falls, mason city, story city, boone, ogden, adel, de soto, winterset, polk county, story county, dallas county, marion county, warren county, Alabama, Alaska, Arizona, Arkansas, California, Colorado, Connecticut, Delaware, DC, Washington D.C., Florida, Georgia, Hawaii, Idaho, Illinois, Indiana, Iowa, Kansas, Kentucky, Louisiana, Maine, Maryland, Massachusetts, Michigan, Minnesota, Mississippi, Missouri, Montana, Nebraska, Nevada, New Hampshire, New Jersey, New Mexico, New York, North Carolina, North Dakota, Ohio, Oklahoma, Oregon, Pennsylvania, Rhode Island, South Carolina, South Dakota, Tennessee, Texas, Utah, Vermont, Virginia, Washington, West Virginia, Wisconsin, Wyoming business