MERCHANT INFORMATION PAGE
Examples (click) : SIGNS - RETAIL STORE SIGNS - HOSPITAL GIFT SHOP MERCHANT CARDS
How do I get started selling Singing PhoneGrams in my store or on my website?
We will work with you communicating mostly through email and occasionally over the phone if needed.
We will deliver the necessary Signage for your Retail Store or Hospital Gift Shop.
We will deliver your Phonegram Cards that are all individually numbered for tracking, once we receive your initial order and payment.
How much do PhoneGram Cards cost me to purchase?
You will be selling your PhoneGram for a Sugguested Retail Price of $30. Each card will cost you $15, so you will profit $15 on each card you sell. You double your money on each sale. Not bad for doing very little work to sell it. We take care of the work on our end of getting the PhoneGram delivered. Founder and professional singer, Rick Ludwig has been doing PhoneGrams and Singing Telegrams since 2004.
Why can I only sell the cards for $30, why not more? How bout less?
You could always sell for less than $30, however, you will need to let us know to change your signage with the adusted price. We do NOT recommend it. We also DO NOT RECOMMEND you charging more than $30 for this gift idea, because it will probably make it harder to sell in your store. We have found that doing this since 2004 on our own websites that $30 seems like a good price point and fair to the Buyer. There are less than a dozen singing phonegram sites on the internet in the United States.
How does the WHOLE Singing Phonegram process work?
It works very nicely and is very simple...
1) Contact us and order your PhoneGram Kit TODAY!
2) Pay for your PhoneGram Kit once we have determined your best starting Kit. You may purchase the Kit using any major credit card via PayPal or send us a check or money order via mail payable to Showtime Entertainment - PO Box 71708 - Clive, IA 50325. Do NOT purchase a Kit if you are not serious about wanting to make extra money for your shop or site.
3) Once your payment is received, you will be sent your Kit either by email or a comination of email and mail depending upon the Kit you have chosen.
4) Read the Marketing Tips Sheet to learn where to BEST place your Signage and where to store the actual PhoneGram Cards somewhere behind the checkout Register area. You might wish to designate a certain Register for this item, like "Please go to Checkout Register #1 to make a purchase of a PhoneGram card". We can modify your Signage to fit your needs if you have more than one checkout register. IMPORTANT: PLEASE NEVER KEEP THE ACTUAL PHONEGRAM CARDS WHERE THE CUSTOMER CAN GRAB ONE, BECAUSE THEN ALL THEY WOULD HAVE TO DO IS CONTACT US USING INFORMATION FROM THE CARD, in which we are under the assumption that the card has already been purchased from your store. WE ARE NOT RESPONSIBLE FOR LOST OR STOLEN PHONEGRAM CARDS. Thanks!!!
5) Place your Signage in your store. The customer will read the Sign, take interest in purchasing a PhoneGram card and then inform the Register Counter clerk that they wish to purchase a Card upon checkout. The person working the Checkout Register needs to ring up the PhoneCard on the register and then fill in the puchase date on the card for the customer, if they forget, no big deal however, the customer can always fill in what date they wish for the card to expire, as they have only 1 year to use the card from purchase date.
FROM HERE ON OUT, WE TAKE CARE OF THE REST! YOU HAVE MADE YOUR MONEY. Any questions, concerns or complaints from a customer from this point on, you may refer them to the number on the PhoneGram card to talk to us.
We will set up the time to call the Recipient of the PhoneGram based upon the details that the card Buyer provides us. Founder and professional singer, Rick Ludwig has been entertaining for over 30 years now, so there is no need to worry about Rick fulfilling his end of the PhoneGram deal. :)
How many PhoneGram cards do I have to purchase to begin?
Great question! You are required to order a minimum of 5 PhoneGram cards to start (total $75). You can order more cards than 5, however. You will receive a PhoneGram Kit for promoting that includes signage and a marketing tips sheet. The more cards you order at once on your first purchase, the more you get in your Phonegram Kit. NOTE: THERE ARE NO REFUNDS, SO PLEASE ONLY ORDER THE NUMBER OF CARDS YOU THINK YOU CAN SELL. When you need more, you can order more at any time. Since we most likely will be sending you a PDF sheet of 5-10 individually numbered cards via email to print off and cut up, there is a quick turnaround on this process once you have paid for additional cards. Paying by credit card via PayPal can get you MORE cards in many cases SAME DAY! Keep in mind, each Card is indivually numbered and we have a record of what store has what Cards, so you cannot duplicate the PDF we send you and sell a Card more than once. If we find this happening, then we will not accept/honor any Cards being sold by you and it will be up to you to refund the customer their $30. Please don't try this. Thanks in advance.
Can I get my cost below $15 a card?
Yes. However, it depends upon how many cards you order at once. Below is a table for a breakdown...
| | | | |
| --- | --- | --- | --- |
| Cards | Cost Per Card | Total Cost | What do I get in my PhoneGram Kit? |
| 5 | $15.00 | $75.00 | Email containing PDF docs: 8.5"x11" Sign, Marketing Tips Sheet |
| 10 | $15.00 | $150.00 | Email containing PDF docs: 8.5"x11" Sign, Marketing Tips Sheet |
| 50 | $12.50 | $625.00 | Package mailed containing: 2 Laminated Signs, Marketing Tips Sheet |
| 100 | $10.00 | $1000.00 | Package mailed containing: 5 Laminated Signs, Plastic Literature Holder to put Brochures that the potential buyer can view, Marketing Tips Sheet |
NOTE: You can print as many of the 8.5"x11" Signs as you wish on your own printer.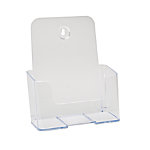 Picture of Plastic Literature Holder (may vary) when purchasing the 100 card Kit.
Can I return unsold cards? What if the cards to not sell in my store?
Like most every retail gift, once you buy it, it's yours to keep. That's why we recommend you start with only 5-10 cards at first and see how long it takes to sell them all. The more you promote this Fun & Unique Gift Item in your store, the faster they will sell. If they sell quickly, order more. It's unique and not every other Gift Shop/Store is selling this item. It's a relatively NEW gift concept idea. Also, the card doesn't expire if you do not sell it right away. The card only expires one year after it is activated, which occurs on the purchase date of the card from your store. You or one of your staff will write the purchase date on the card, so the Buyer knows how long they have to use it. Most times they are planning to use it within 1-30 days if it's a Get Well, Newborn Baby or Birthday Gift.
So let's get started TODAY!!!
Call or text founder and professional singer, Rick Ludwig at 515-208-1782 or Email us to begin selling this Fun and Unique Gift Item in YOUR store NOW!!!
$$$$$$$ Let's Make MONEY Together $$$$$$$