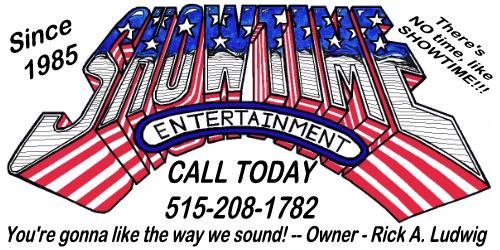 WHY SHOULD YOU CHOOSE SHOWTIME?
Showtime Entertainment has been providing high-quality services since 1985. We are professional, experienced and dependable! Our goal is to make your event a fun and memorable experience, but we don't steal the show! The show is all about YOU! We take pride in developing long-lasting relationships with our customers!!
Each event is unique and special and we treat it as if it is the most important event we do all year! We do dozens of DJ shows per year and we are in high demand! We don't take breaks, unless you need us to. We offer non-stop, uninterrupted entertainment from start to finish!
Again, we... 1) use high-quality equipment 2) have a huge, fully digital music library including many genres and spanning many decades 3) interact with the crowd 4) are not the cheapest DJ in town 5) always work hard to make you happy!!
Showtime Entertainment has the "ILITY" to get the job done right...
Ability - To do your event right with experience and professionalism!
Dependability - We never miss an event and we always show up early or on-time.
Respectability - We have been doing this since 1985 and have a good, solid reputation.
Reliabilty & Responsibility - We guarantee we will be there when we say we will.
Credibility - We have hundreds of satisfied customer testimonials over the past three decades.
Affordability - We are not be the cheapest service out there, but we are usually within most budgets.
Versatility & Mobility - We're flexible and will go wherever you need us to go! We are always on the Go!!!
Tranquility - Once you choose Showtime, you can just relax with peace of mind and no worries!
One of the BEST Des Moines DJ services is Showtime Entertainment of Iowa DJs, Karaoke, Singing Telegrams, Vocalists & more...
djs in des moines, dj in des moines, des moines djs, dj iowa, djs iowa, iowa dj, iowa djs, des moines dj service, des moines disc jockey, dj service in des moines, iowa, dj service des moines, disc jockey service des moines, iowa, live music des moines, iowa, singer, entertainment, weddings des moines, iowades moines dj, iowa dj, des moines djs, iowa djs, des moines disc jockey, iowa disc jockey, iowa disc jockeys, des moines disc jockeys, djs in iowa, djs in des moines, dj in iowa, dj in des moines, iowa entertainment, des moines entertainment, des moines weddings, iowa weddings, iowa wedding, des moines wedding, wedding des moines, wedding iowa, wedding in des moines, wedding in iowa, weddings in iowa, weddings in des moines, iowa karaoke, dj des moines, dj iowa, djs iowa, djs des moines, disc jockey des moines, disc jockey iowa, entertainment iowa,entertainment des moines, iowa, dj central iowa, disc jockey central iowa, iowa bride, des moines bride, bride iowa, bride des moines, vendor iowa, iowa vendor, vendor des moines, des moines vendor, school, prom, homecoming, birthday, anniversary, graduation, reunion, club, fund-raiser, fund raiser, bar mitzvah, bat mitzvah, bar, restaurant, nightclub, tavern, lounge, affordable dj, affordable djs, affordable disc jockey, high quality dj, high quality djs, high quality disc jockey, game show, talent show, lip sync, emcee service, public address, ankeny, altoona, ames, west des moines, windsor heights, pleasant hill, indianola, carlisle, grimes, waukee, clive, urbandale, johnston, norwalk, cumming, fort dodge, marshalltown, newton, pella, knoxville, chartion, ottumwa, oskaloosa, grinnell, cedar rapids, iowa city, cedar falls, iowa falls, mason city, story city, boone, ogden, adel, de soto, winterset, polk county, story county, dallas county, marion county, warren county, Alabama, Alaska, Arizona, Arkansas, California, Colorado, Connecticut, Delaware, DC, Washington D.C., Florida, Georgia, Hawaii, Idaho, Illinois, Indiana, Iowa, Kansas, Kentucky, Louisiana, Maine, Maryland, Massachusetts, Michigan, Minnesota, Mississippi, Missouri, Montana, Nebraska, Nevada, New Hampshire, New Jersey, New Mexico, New York, North Carolina, North Dakota, Ohio, Oklahoma, Oregon, Pennsylvania, Rhode Island, South Carolina, South Dakota, Tennessee, Texas, Utah, Vermont, Virginia, Washington, West Virginia, Wisconsin, Wyoming business