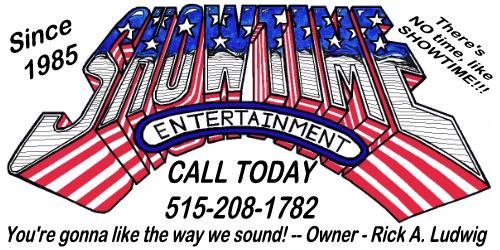 MAKE A PAYMENT
You can easily make a payment with any major debit/credit card...
Click on the BUY NOW button and enter the amount as the unit price
Hit the BACK button on PayPal screen if you wish to return to this page
Disclaimer: The retainer fee is non-refundable and if you use PayPal to retain our services, this constitutes a binding contractual agreement between both parties, even without a signed contract by both parties.
Please do not pay a retainer fee if you are unsure of the intent to retain our entertainment services. Thank you!!!
NOTE: Your credit card statement will list For The King Productions or Showtime Entertainment.
A signed and dated contract must be mailed to us immediately to validate it as a legal document after making your PayPal payment.
We will make a copy of the contract and return to you for your records.
If you are mailing a payment, our mailing address is:
Showtime Entertainment - P.O. Box 71708 - Clive, Iowa 50325

One of the BEST Des Moines DJ services is Showtime Entertainment of Iowa DJs, Karaoke, Singing Telegrams, Vocalists & more...
djs in des moines, dj in des moines, des moines djs, dj iowa, djs iowa, iowa dj, iowa djs, des moines dj service, des moines disc jockey, dj service in des moines, iowa, dj service des moines, disc jockey service des moines, iowa, live music des moines, iowa, singer, entertainment, weddings des moines, iowades moines dj, iowa dj, des moines djs, iowa djs, des moines disc jockey, iowa disc jockey, iowa disc jockeys, des moines disc jockeys, djs in iowa, djs in des moines, dj in iowa, dj in des moines, iowa entertainment, des moines entertainment, des moines weddings, iowa weddings, iowa wedding, des moines wedding, wedding des moines, wedding iowa, wedding in des moines, wedding in iowa, weddings in iowa, weddings in des moines, iowa karaoke, dj des moines, dj iowa, djs iowa, djs des moines, disc jockey des moines, disc jockey iowa, entertainment iowa,entertainment des moines, iowa, dj central iowa, disc jockey central iowa, iowa bride, des moines bride, bride iowa, bride des moines, vendor iowa, iowa vendor, vendor des moines, des moines vendor, school, prom, homecoming, birthday, anniversary, graduation, reunion, club, fund-raiser, fund raiser, bar mitzvah, bat mitzvah, bar, restaurant, nightclub, tavern, lounge, affordable dj, affordable djs, affordable disc jockey, high quality dj, high quality djs, high quality disc jockey, game show, talent show, lip sync, emcee service, public address, ankeny, altoona, ames, west des moines, windsor heights, pleasant hill, indianola, carlisle, grimes, waukee, clive, urbandale, johnston, norwalk, cumming, fort dodge, marshalltown, newton, pella, knoxville, chartion, ottumwa, oskaloosa, grinnell, cedar rapids, iowa city, cedar falls, iowa falls, mason city, story city, boone, ogden, adel, de soto, winterset, polk county, story county, dallas county, marion county, warren county, Alabama, Alaska, Arizona, Arkansas, California, Colorado, Connecticut, Delaware, DC, Washington D.C., Florida, Georgia, Hawaii, Idaho, Illinois, Indiana, Iowa, Kansas, Kentucky, Louisiana, Maine, Maryland, Massachusetts, Michigan, Minnesota, Mississippi, Missouri, Montana, Nebraska, Nevada, New Hampshire, New Jersey, New Mexico, New York, North Carolina, North Dakota, Ohio, Oklahoma, Oregon, Pennsylvania, Rhode Island, South Carolina, South Dakota, Tennessee, Texas, Utah, Vermont, Virginia, Washington, West Virginia, Wisconsin, Wyoming business