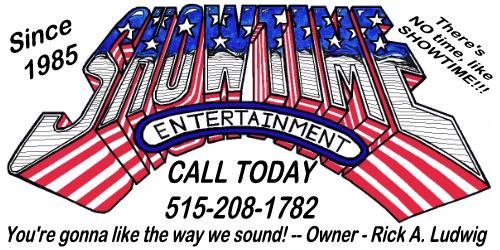 KARAOKE TESTIMONIALS
Showtime Entertainment provides the best karaoke in town. So when you're ready to get on stage and "be the star that you are," Rick and Company knows how to do it right. -- Prairie Meadows Racetrack & Casino
I have traveled all over the state (and to a few other states, in this country) and Showtime Entertainment is the best I've come across! Rick and his hard working staff go to great lengths to provide the best show possible. The song list is the largest I've seen and is constantly being added to. The equipment is state of the art, and the KJ's are the most fun loving and crazy people I've ever met in the business! If you are looking for a fun filled evening; I'd recommend catching a show, and joining in on the fun!!!! -- "Doo Don" Dodd
My wife and I love to do karaoke with Showtime. He has the best selection of songs and you don't have to worry where the controls are set when you get up to sing he knows his singers and how to make them sound their best. Thanks Rick. See you soon. -- Frank & Janet Pasco
We have had very good feedback and... it [karaoke] was a great time. We will keep you in mind for all of our future large events. -- Bryan Sage - USSSA Fastpitch World Series
Dear Rick: On behalf of the Richmond Center's staff and consumers, I send very warm thanks for your help at our Annual Holiday Party. Your help with the Karaoke and the time you spend with us is very important and appreciated. Our Holiday Party was a tremendous success due to your assistance. It provided our consumers with a memorable and joyous celebration. We truly appreciate your generosity! -- Cari McPartland - Outreach Services Coordinator
Dear Rick: Thank you so much for doing karaoke for our consumer holiday party. So many people commented on what a wonderful job you did & how much fun they had. We look forward to working with you again for future holiday parties. Thanks so much. Outreach Staff - The Richmond Center
By far the best. Deb did a great job with the music and as a karaoke DJ. We could tell that she made the experience positive, as most of our participants signed up and sang. She interacted very well with everyone, and did a lot to help make our holiday party an enjoyable experience for all involved, which is the best encouragement for people to participate next year. Deb played softer Christmas music during the meal, which fit with the atmosphere perfectly. She timed the start of karaoke well. Everything sounded great! You have a great selection of karaoke to choose from. Thank you very much for helping to make our holiday celebration possible. If anyone asks advice about a DJ in central Iowa, I have no problem recommending Showtime to them emphatically.
Rick & Deb: Thanks so much for providing music & karaoke for our holiday party. Everyone had a GREAT time and we all look forward to seeing you again next year. -- Nick Stull - The Richmond Center
Dear Ludwigs - We are thankful for your recent donation of the karaoke machine and music for our annual school carnival, the Big Blue Bash. This year's event was a wonderful success - we had hundreds of children and parents in attendance and it was a great evening of building community in our school family. We appreciate your contribution - the music made the atmosphere so enjoyable! Thank you for your support of Des Moines Christian School. You are a blessing to us! With deep appreciation -- Jennifer Erickson - Secretary of Parent-Teacher Fellowship.
Dear Mr. Ludwig: Thank you for your Karaoke Night at the Clive Public Library on the 14th of November. The Staff enjoyed working with you and appreciated your being a part of our children's programming. -- Karen Eaves - City of Clive Library
Taken from the DMACC website...
The DMACC Urban Campus Lounge was alive with the sound of music on Friday, Oct. 11, from 12:30 - 2:30 pm as more than 30 students and staff laughed, sang, clapped and cheered to the endless stream of wanna-be stars that lip-synced their way through Showtime Entertainment's list of pop, rock, R & B and rap songs.
Rick Ludwig, proprietor of Showtime Entertainment provided the means.. and the rest, as they say in Hollywood, is history. The SAC proved that staying after school is not always a bad thing. (article written by Michael Schaffer, student at Urban/Des Moines campus)
Performance photo taken on Oct. 11, 2002 in the Urban Campus Student Lounge
Rick was very professional in his evening of entertainment. I believed the way he interacted with the young adults in attendance was fabulous. Those who were there had a very memorable experience. The evening was fun-filled and accommodating to all. Everyone had a great time. Karaoke was great - very pleasing for all. Everyone in attendance was able to participate and feel like they were a star! All were encouraged by the Showtime entertainer. In fact, everyone had such a great time that plans were being made before the end of that program for one next year. Thanks for a great time. :) -- Jerri Heid - City of Clive Library
Great show Saturday night Rick you guys are the bomb bullet, and according to Harry and me you will always have our business! Excellent job everyone thought you were the best they had ever seen. Nothing but great comments from the customers. Can't wait till the next go around neither can the customers. Thanks a lot! -- Marcus - Harry's Pizza & Pub in Redfield.
Showtime Entertainment has very good sound quality. The song selection is the best I've seen anywhere. The extras are all very nice. The location I like the most is Chi Chi's South. Great people and good fun. Overall, Showtime is the best service around. -- Keri Wegner
I love going to sing karaoke, but only if it's Showtime Entertainment. I used to go to another location [name omitted], but their song list is 5 to 10 years old. Additionally, they have limited country songs. Showtime Entertainment blew me away the first time I went to one of their shows. I looked through the song book & couldn't decide among the many choices. They have songs that nobody else has. I'm so impressed with their song selection, I've even talked about becoming a KJ for them. Showtime Entertainment has cordless microphones, giving the singer mobility & a better sound quality. I've been singing karaoke for years & this is the first company that I've endorsed. -- Stacy Harmon
I only sing at Showtime Karaoke shows. They have the best selection & add current songs monthly to keep up with the times. I enjoyed going to their shows so much, I started working for them. I have more fun at this job than any other job I've had! -- Stacy Harmon (REVISED TESTIMONIAL)
I have been a loyal supporter of Showtime for over 8 years now, and in that time I have seen Rick consistently do whatever it took to make the Showtime experience the best Des Moines and the surrounding communities have to offer. He has a very polite staff, which some of I have become close friends with. Rick also has always had the "best" selection of songs anywhere in the city, to which he constantly adds. If you are looking for a good night of fun or someone for a private party, I guarantee theirs' is the only # to call. As far as what I would do [to improve], NOT A DAMN THING, KEEP UP THE GOOD WORK! -- Brian "BUFF" Potter
The Showtime karaoke selection is the best in town! They make it a point to keep current on the latest songs, and if they don't have a song, they are very good in finding it for you. The cutting edge technology of the computerized karaoke system is a big plus for the die-hard karaoke junkie, and I can see lots of entertainment potential with the added features of the digital system. See Rick for a cool demonstration of the computer's capabilities. -- Robert Uy
The new computer system at shows is great. I like how it ends up adding so many songs so fast. I'm really looking forward to the Karaoke Korner's list of upcoming songs. -- Tom McGiverin
I like all the different songs Showtime Entertainment has. I can sing Ricky Martin or Faith Hill. I like to eat steak fajitas at Chi Chi's. I like to sing because I have a pretty voice. I like to sing with my friends. -- Taylor (5 years old)

Showtime Entertainment is fair about taking turns singing. I like the friendly service at Chi Chi's. I like the good food too. I get to bond with my friends & family. -- Sarah Haag (10 1/2 years old)
The last time you were there [Maddy's Place], we had so much fun!!! Keep up the good work!!! You guys ROCK!!! :) -- Kari Ann Townsley
I think Showtime is AWESOME! I can get away from my kids, go out with my friends and sing and have a good time. Then, on the other hand if I want to take them, I can still go and they can sing as well. My nine year old has been following Rick and the gang since she was three years old and couldn't even read the monitor. Brittany's favorite song to sing as a three year old was The Shake, and now she loves all of the new pop songs you have to choose from. Now two children later, all three of my kids love to sing. My two year old son Zachary loves to help sing It Wasn't Me by Shaggy. -- Dawn Geisler
I've been going to Showtime karaoke shows for a couple of years now. The song selection is phenomenal and the equipment is awesome! You can tell Rick and the gang at Showtime really work at providing top notch entertainment. The few other karaoke shows I've seen just don't measure up. -- Mark Brommel
I've always been impressed with the way Showtime Entertainment runs their shows. The rotations are fair and efficient at getting everyone through. I hope to make it to more shows soon. -- Emily Tofteland
Showtime Entertainment has the highest quality sound and the best song selection of anyone else. YOU'RE THE BEST! -- Mindy Tenney
The people at Showtime care about the community and care about what the audience wants. I'm always finding new songs to sing--not just some I've been hoping to see, but others that are pleasant surprises. Above all, they have less well-known songs that I like even better than the same songs everybody else has. -- James Jones
You guys offer the best selection when it comes to songs. You have the hottest spots in town to go and perform. Keep up the great work. -- Randy Werner

One of the BEST Des Moines DJ services is Showtime Entertainment of Iowa DJs, Karaoke, Singing Telegrams, Vocalists & more...
djs in des moines, dj in des moines, des moines djs, dj iowa, djs iowa, iowa dj, iowa djs, des moines dj service, des moines disc jockey, dj service in des moines, iowa, dj service des moines, disc jockey service des moines, iowa, live music des moines, iowa, singer, entertainment, weddings des moines, iowades moines dj, iowa dj, des moines djs, iowa djs, des moines disc jockey, iowa disc jockey, iowa disc jockeys, des moines disc jockeys, djs in iowa, djs in des moines, dj in iowa, dj in des moines, iowa entertainment, des moines entertainment, des moines weddings, iowa weddings, iowa wedding, des moines wedding, wedding des moines, wedding iowa, wedding in des moines, wedding in iowa, weddings in iowa, weddings in des moines, iowa karaoke, dj des moines, dj iowa, djs iowa, djs des moines, disc jockey des moines, disc jockey iowa, entertainment iowa,entertainment des moines, iowa, dj central iowa, disc jockey central iowa, iowa bride, des moines bride, bride iowa, bride des moines, vendor iowa, iowa vendor, vendor des moines, des moines vendor, school, prom, homecoming, birthday, anniversary, graduation, reunion, club, fund-raiser, fund raiser, bar mitzvah, bat mitzvah, bar, restaurant, nightclub, tavern, lounge, affordable dj, affordable djs, affordable disc jockey, high quality dj, high quality djs, high quality disc jockey, game show, talent show, lip sync, emcee service, public address, ankeny, altoona, ames, west des moines, windsor heights, pleasant hill, indianola, carlisle, grimes, waukee, clive, urbandale, johnston, norwalk, cumming, fort dodge, marshalltown, newton, pella, knoxville, chartion, ottumwa, oskaloosa, grinnell, cedar rapids, iowa city, cedar falls, iowa falls, mason city, story city, boone, ogden, adel, de soto, winterset, polk county, story county, dallas county, marion county, warren county, Alabama, Alaska, Arizona, Arkansas, California, Colorado, Connecticut, Delaware, DC, Washington D.C., Florida, Georgia, Hawaii, Idaho, Illinois, Indiana, Iowa, Kansas, Kentucky, Louisiana, Maine, Maryland, Massachusetts, Michigan, Minnesota, Mississippi, Missouri, Montana, Nebraska, Nevada, New Hampshire, New Jersey, New Mexico, New York, North Carolina, North Dakota, Ohio, Oklahoma, Oregon, Pennsylvania, Rhode Island, South Carolina, South Dakota, Tennessee, Texas, Utah, Vermont, Virginia, Washington, West Virginia, Wisconsin, Wyoming business