Welcome Visitors!! Rick Ludwig, owner of Showtime Entertainment, has been providing high quality entertainment services in Des Moines/Central Iowa since 1985. It is no accident that you have found our site.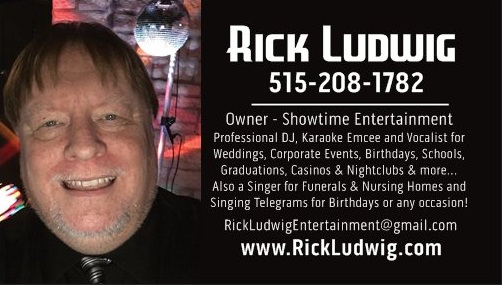 We offer DJ Services for weddings, schools, corporate events, birthdays and other private events. We offer Karaoke for bars, clubs and private parties. We offer Vocalist Services for casinos, nightclubs, nursing homes, weddings, funerals and even Singing Telegrams. We also offer Other Services such as Trivia, Game Shows, Lip Sync Contests, Emcees, PA Systems and more...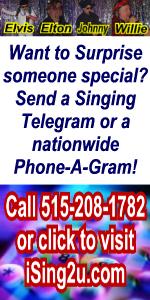 (c) 1997-2019 Showtime Entertainment. All rights reserved.
One of the BEST Des Moines DJ services is Showtime Entertainment of Iowa DJs, Karaoke, Singing Telegrams, Vocalists & more...
djs in des moines, dj in des moines, des moines djs, dj iowa, djs iowa, iowa dj, iowa djs, des moines dj service, des moines disc jockey, dj service in des moines, iowa, dj service des moines, disc jockey service des moines, iowa, live music des moines, iowa, singer, entertainment, weddings des moines, iowades moines dj, iowa dj, des moines djs, iowa djs, des moines disc jockey, iowa disc jockey, iowa disc jockeys, des moines disc jockeys, djs in iowa, djs in des moines, dj in iowa, dj in des moines, iowa entertainment, des moines entertainment, des moines weddings, iowa weddings, iowa wedding, des moines wedding, wedding des moines, wedding iowa, wedding in des moines, wedding in iowa, weddings in iowa, weddings in des moines, iowa karaoke, dj des moines, dj iowa, djs iowa, djs des moines, disc jockey des moines, disc jockey iowa, entertainment iowa,entertainment des moines, iowa, dj central iowa, disc jockey central iowa, iowa bride, des moines bride, bride iowa, bride des moines, vendor iowa, iowa vendor, vendor des moines, des moines vendor, school, prom, homecoming, birthday, anniversary, graduation, reunion, club, fund-raiser, fund raiser, bar mitzvah, bat mitzvah, bar, restaurant, nightclub, tavern, lounge, affordable dj, affordable djs, affordable disc jockey, high quality dj, high quality djs, high quality disc jockey, game show, talent show, lip sync, emcee service, public address, ankeny, altoona, ames, west des moines, windsor heights, pleasant hill, indianola, carlisle, grimes, waukee, clive, urbandale, johnston, norwalk, cumming, fort dodge, marshalltown, newton, pella, knoxville, chartion, ottumwa, oskaloosa, grinnell, cedar rapids, iowa city, cedar falls, iowa falls, mason city, story city, boone, ogden, adel, de soto, winterset, polk county, story county, dallas county, marion county, warren county, Alabama, Alaska, Arizona, Arkansas, California, Colorado, Connecticut, Delaware, DC, Washington D.C., Florida, Georgia, Hawaii, Idaho, Illinois, Indiana, Iowa, Kansas, Kentucky, Louisiana, Maine, Maryland, Massachusetts, Michigan, Minnesota, Mississippi, Missouri, Montana, Nebraska, Nevada, New Hampshire, New Jersey, New Mexico, New York, North Carolina, North Dakota, Ohio, Oklahoma, Oregon, Pennsylvania, Rhode Island, South Carolina, South Dakota, Tennessee, Texas, Utah, Vermont, Virginia, Washington, West Virginia, Wisconsin, Wyoming business