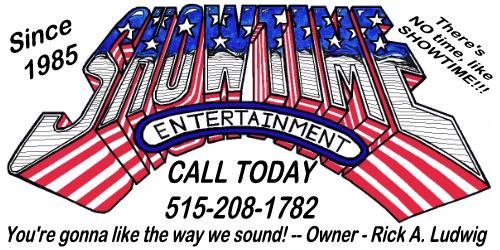 PRESENTS

Showtime Entertainment of Des Moines, Iowa has been providing high-quality entertainment in the form of Mobile DJ services across the Midwest since 1985. For almost the same amount of time, owner, Rick Ludwig has also been doing simple, but not necessarily organized, Trivia along the way at various private parties, schools, corporate events, churches and bars. Rick does a great job of interacting with clients and customers at his events!
In 2018, Trivia is now organized and more awesome than one could imagine! Rick is now offering a Trivia option for his current Karaoke shows. Bars that currently do Karaoke can also add Trivia to be played for about an hour during the night, but without disrupting the Karaoke show much, as the questions will be asked in between Karaoke singer performances. The cost for this Trivia add on to Rick's Karaoke show is very affordable per Game.
In addition, bars that only wish to do just Trivia Night may do so for one, two or three Games a night, which will last about one hour each, maybe a little more. The cost for this Trivia Night (no Karaoke) Sunday - Thursday for 1-3 Games is very affordable. Friday and Saturday rates will be more, but Rick's availability is limited. Contact Rick today for pricing! NOTE: Rates are higher for Private Parties and Casinos.
Trivia Night includes a full sound system and Rick as the Game Master of Ceremonies (host) along with dozens of great Trivia questions from our large database of custom created questions from Trivia sources and outlets all over the worldwide web. One Hour Trivia includes standard questions as well as Audio Questions (like name that tune) and Visual Picture Questions. You gotta experience this *NEW* Trivia option to believe it. Keep in mind, Trivia may take a few Shows to catch on and build up Teams, so don't give up after only one or two Shows. Trivia industry experts say is take 3 to 6 months to build a crowd. Get in on these introductory rates, as demand increases for Rick's One Hour Trivia, his rates may need to go up too. Lock 'em up!!!
A Game usually will consist of 16 or more questions from various Categories listed below. Up to 12 Teams will be allowed to play a Game. Teams can consist of up to 5 players. So up to 60 patrons can actually be interacting with Trivia Night at the same time. This is a captive audience which will be encouraged to purchase drinks and/or food from your establishment. With some slight modifications, Teams may be expanded.
Categories include, but not limited to... Current Events, Brain Teasers, Sports, Movies, Entertainment, History, Geography, Science, Arts, Literative, Leisure & Hobbies, Food & Drink, The Internet, TV Trivia, Technology & Computers and many more...
You might wish to have one Game be an all inclusive (all categories) Game and then followed by a more specific Game like an All Sports or All Music Game. Rick can customize the Games many different ways to please the interests of your crowd. Rick has spent many hours devising this awesome Trivia Experience. Also, most Games will initially be at the Easy/General Knowledge Level, but down the road you might wish to choose an Intermediate/Medium or Professional/Difficult Level Game.
Finally, you will need to come up with Prizes to give away to at least the 1st Place Team with the highest score. We recommend Cash or at minimum a bar tab of like $20-$25 or so that can be split amongst the Team members. In addition, 2nd and 3rd place Prizes would also be nice, even if it's not much.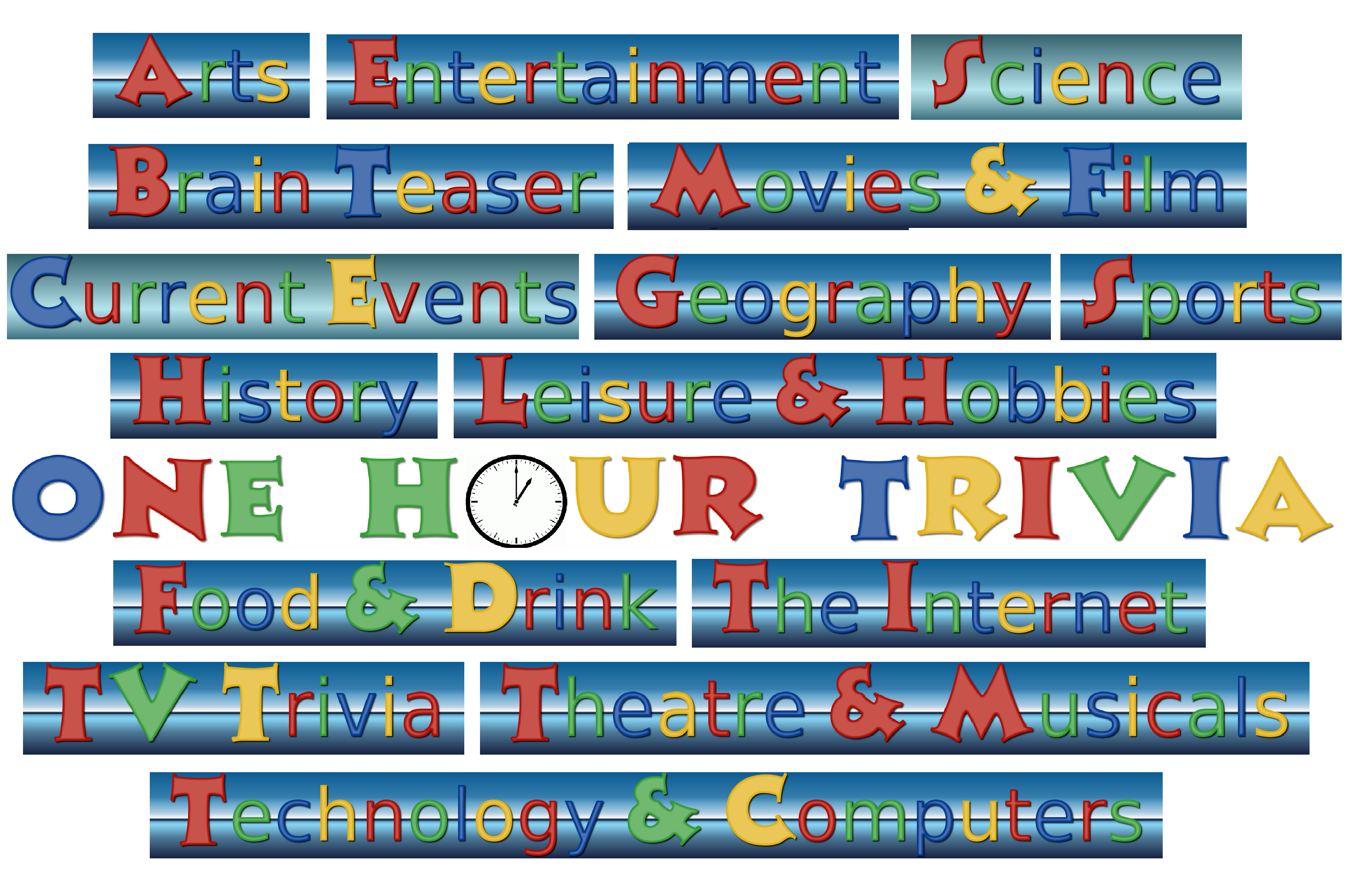 Like our Facebook page...

(c) 2018 OneHourTrivia.com. All rights reserved.
One of the BEST Des Moines DJ services is Showtime Entertainment of Iowa DJs, Karaoke, Singing Telegrams, Vocalists & more...
trivias in des moines, trivia in des moines, des moines trivias, trivia iowa, trivias iowa, iowa trivia, iowa trivias, des moines trivia service, des moines trivia, trivia service in des moines, iowa, trivia service des moines, trivia service des moines, iowa, live music des moines, iowa, singer, entertainment, weddings des moines, iowades moines trivia, iowa trivia, des moines trivias, iowa djs, des moines trivia, iowa trivia, iowa trivias, des moines trivias, djs in iowa, djs in des moines, dj in iowa, dj in des moines, iowa entertainment, des moines entertainment, des moines weddings, iowa weddings, iowa wedding, des moines wedding, wedding des moines, wedding iowa, wedding in des moines, wedding in iowa, weddings in iowa, weddings in des moines, iowa karaoke, dj des moines, dj iowa, trivia iowa, trivia des moines, trivia des moines, trivia iowa, entertainment iowa,entertainment des moines, iowa, dj central iowa, trivia central iowa, iowa bride, des moines bride, bride iowa, bride des moines, vendor iowa, iowa vendor, vendor des moines, des moines vendor, school, prom, homecoming, birthday, anniversary, graduation, reunion, club, fund-raiser, fund raiser, bar mitzvah, bat mitzvah, bar, restaurant, nightclub, tavern, lounge, affordable dj, affordable trivia, affordable trivia, high quality dj, high quality trivia, high quality trivia, game show, talent show, lip sync, emcee service, public address, ankeny, altoona, ames, west des moines, windsor heights, pleasant hill, indianola, carlisle, grimes, waukee, clive, urbandale, johnston, norwalk, cumming, fort dodge, marshalltown, newton, pella, knoxville, chartion, ottumwa, oskaloosa, grinnell, cedar rapids, iowa city, cedar falls, iowa falls, mason city, story city, boone, ogden, adel, de soto, winterset, polk county, story county, dallas county, marion county, warren county, Alabama, Alaska, Arizona, Arkansas, California, Colorado, Connecticut, Delaware, DC, Washington D.C., Florida, Georgia, Hawaii, Idaho, Illinois, Indiana, Iowa, Kansas, Kentucky, Louisiana, Maine, Maryland, Massachusetts, Michigan, Minnesota, Mississippi, Missouri, Montana, Nebraska, Nevada, New Hampshire, New Jersey, New Mexico, New York, North Carolina, North Dakota, Ohio, Oklahoma, Oregon, Pennsylvania, Rhode Island, South Carolina, South Dakota, Tennessee, Texas, Utah, Vermont, Virginia, Washington, West Virginia, Wisconsin, Wyoming business